If you're in search of a unique and thrilling experience, look no further than the TGV Minitrike  from the best trike Crew. With us, you can buy a custom Mini trike that will revolutionize your riding adventures.
Why you should buy your minitrike at TGVshop
Why settle for ordinary when you can ride in style? Our Minitrikes combine innovative engineering with impeccable craftsmanship, resulting in a ride like no other. With every turn of the wheel, you'll feel the adrenaline rush through your veins, and the wind will whisper tales of adventure in your ears. Experience the thrill of owning a Minitrike that stands out from the crowd.
When you choose TGVShop, you're not just purchasing a Minitrike; you're joining a community of passionate riders. The TGV Minitrike Crew is a group of like-minded individuals who share a love for the open road and a desire to push the limits of what's possible. As part of our crew, you'll gain access to exclusive events, meet fellow enthusiasts, and embark on unforgettable journeys together
Buying a custom Minitrike from the TGV Minitrike Crew is more than just a transaction; it's an investment in your happiness and freedom. Our dedication to quality ensures that you'll enjoy your Minitrike for years to come. From the first moment you lay eyes on your personalized ride to the exhilarating adventures that lie ahead, TGVShop will be with you every step of the way.
Our team consists of an elite group of guys that have thier own expertise that come together to form the TGV Crew!
Kurt
Kurt is an expert in cleaning frames, packaging product, cnc machining, and anything that needs done around the shop!
Dave
Dave specializes in all things Pit Viper and Dad selfies. He handles all business aspects of the company and makes sure operations are running smoothly!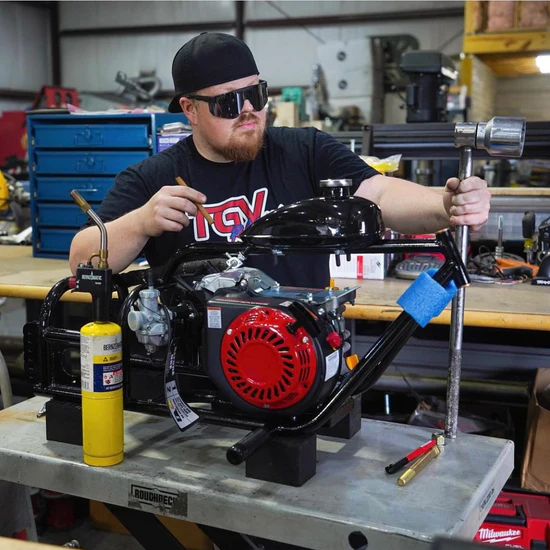 Ben
Ben is our main designer and engineer. He assembles all of our full builds and oversees operations in the shop. If he's not building trikes he's hitting the moto track with his YZ250F!
Mike
Mike is the guy that makes sure everything that leaves the shop is up to our standards. He handles everything from parts to frames and full builds. Mike enjoys long nights riding, cleaning, and doing maintenance on his 2023 CRF250R!
The Ice Man
Josh is the main guy when it comes to cleaning, cutting, and knotching raw material that is used to build our units! The Ice Man is an avid tractor enthusiast and landscaping expert!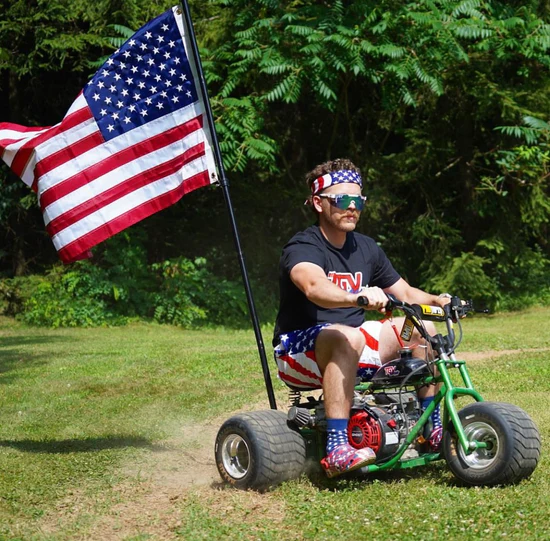 Russ
Russ heads the content creation on all of our social media platforms! Mustaches, mullets, and 2 strokes are the only words needed to describe him!